What To Wear To A 90s Themed Party
May 20, 2022 by Modakawa
One great thing about 90s fashion is that it can be both comfortable and stylish. You can either rock a pair of denim overalls with a t-shirt or go all out with a neon windbreaker and some high-top sneakers. No matter what you choose to wear, make sure you have fun with it.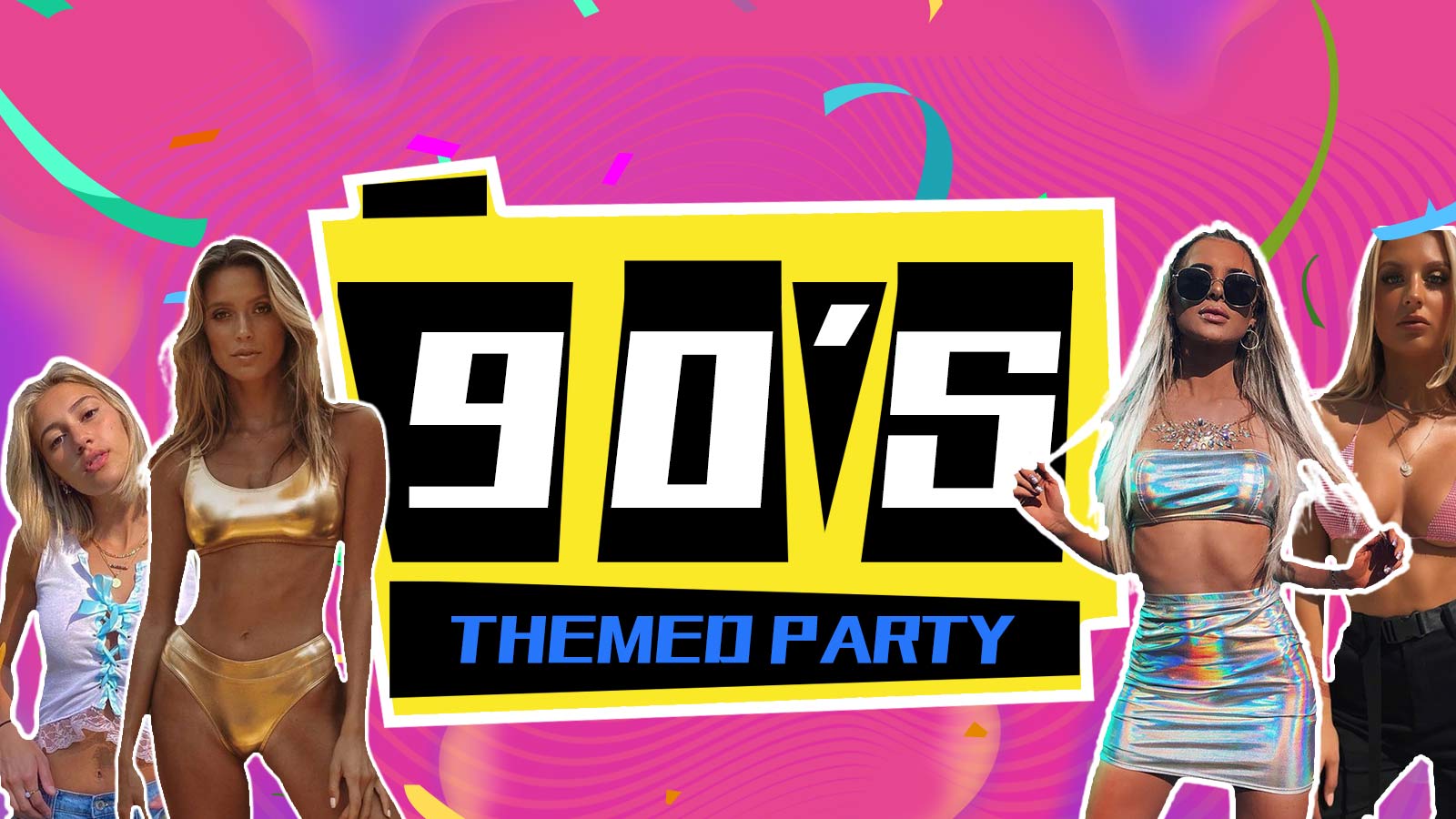 The 90s were a great time for music, fashion, and pop culture. If you're looking to throw a party that captures the essence of this decade, then a 90s themed party is the perfect option. Here are some tips to help you get started:
To create a truly authentic 90s party atmosphere, you'll need to set the scene with some appropriate decorations. Think bright colors, neon lights, and plenty of pop culture references.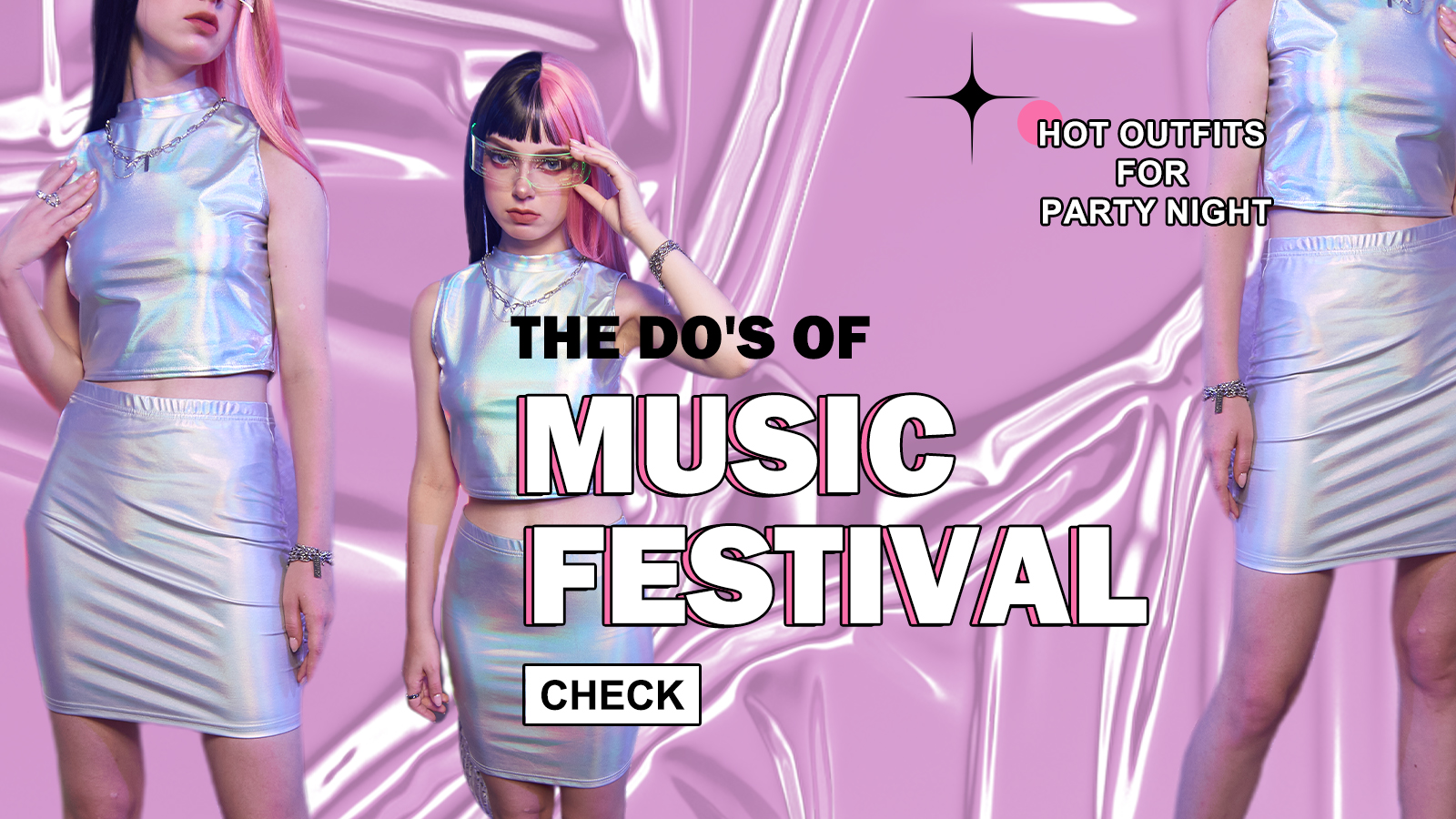 Theme Party Outfits
If you want to keep things simple, then dress in 90s themed party inspired clothing. There are plenty of 90s theme party dresses and accessories that will help you get in the right mood.
Whether you're planning a 90s-themed party or simply want to dress up in some of the most iconic fashion trends of the decade, we've got you covered. Here are some of favorite 90s-inspired looks for women:
1. The Early 90s
Oversized everything was all the rage in the early '90s. From huge sweaters to baggy jeans, the bigger, the better. To recreate this look, start with a loose-fitting top or dress and add some wide-leg pants or denim shorts. Accessorize with chunky jewelry, and don't be afraid to pile on the makeup.
2. The Mid 90s
The mid-90s were all about grunge and hip hop fashion. Think flannel shirts, Doc Martens, and lots of layering. Start with a plaid shirt or dress, and add some ripped jeans or leggings to get this look. Throw on a denim jacket or hoodie, and you're good to go.
3. The Late 90s
The late '90s were all about being a total diva. Thin crop tops, bodycon dresses, and sky-high heels. To recreate this look, start with a tight-fitting top or dress and add some form-fitting pants or skirts. Accessorize with bold jewelry, and don't forget your sunglasses.
What To Wear To A 90s Party?
Slack skirts or shorts with 3-inch hems were really popular during the 90s decade. The flattery of this style is that it is incredibly easy to put on and off. Wear these with a tiara and long-sleeved white T-shirt for a 90s party.
Certainly, the most popular swimsuit from the 90's, if you're going to throw a beach party, you'll need to throw on a set of these awesome one-piece suits. They're perfect for summer pool parties, or just wearing lounging in the backyard in your jean shorts.
It was also popular during the 90's decade to wear stretch denim, and it was also common for women to focus on denim as their go-to style for the time. This can be achieved by wearing a short pair of jeans, or a pair that is long enough to reach mid-thigh or above in length.
4. 90s Plaid Sets (with Thigh-High Socks)
For women, some of the best outfits of the 90's were plaid sets that came with a pair of thigh-high socks. Going beyond just a simple pair of jeans and an off-the-shoulder top or shirt, you could layer together several pieces, including a shell or jacket, dress or skirt, and tights, to create a great look for any occasion.
5. Capri Pants
Capri pants also went a long way into 90s fashion. They were popular with both teenagers and grown women during the time, as they were great for lounging around at home or going to a cool party.
6. The 90s 'Spice Girls' Outfits
There is no other decade that women have so heavily influenced as the 90s. The Spice Girls, who were essentially a girl band from the UK, were one of the most popular groups in the entire world. Their outfits set the tone for 90s fashion for all women everywhere.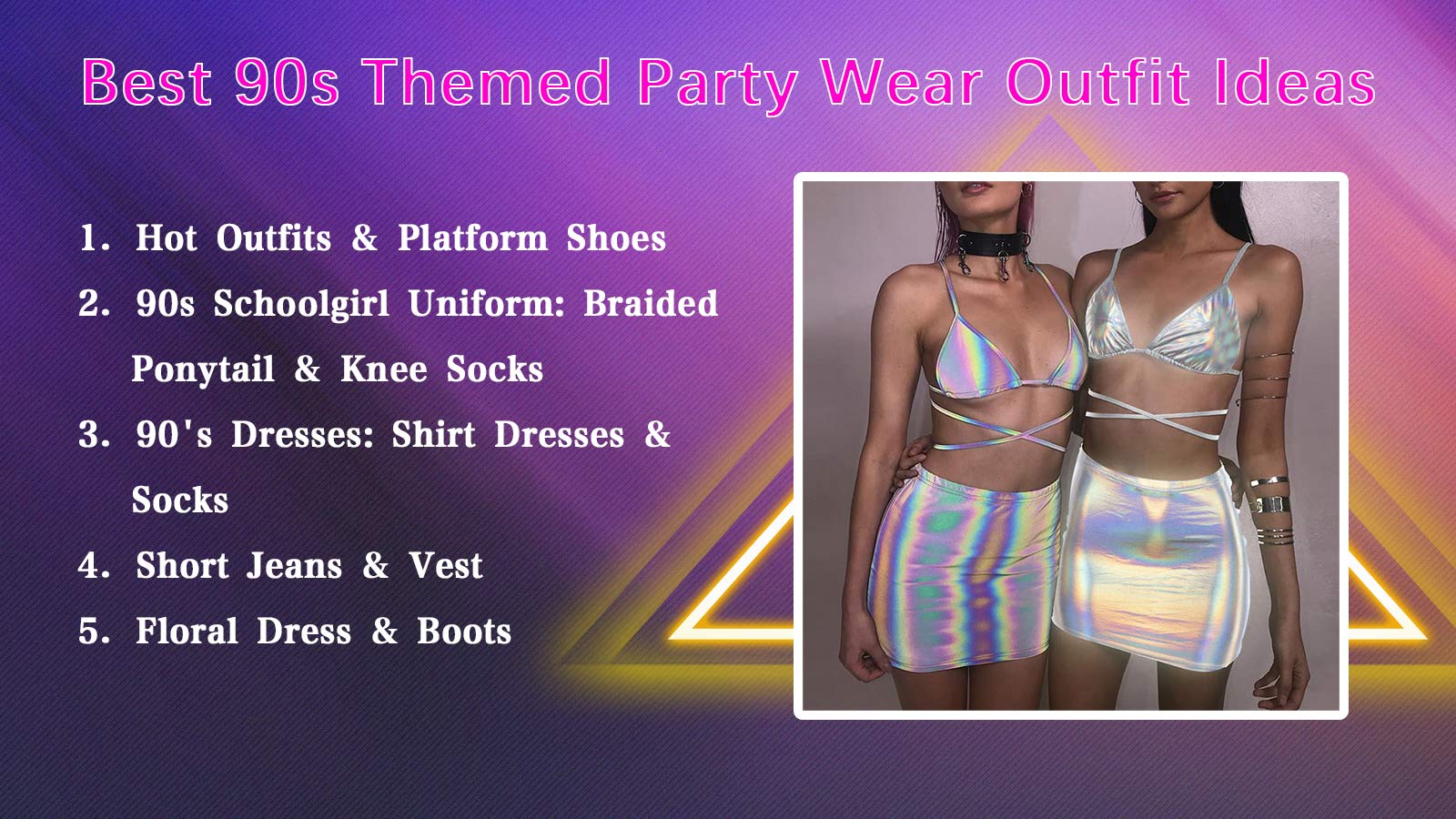 Best 90s Themed Party Wear Outfit Ideas
There are so many different types of 90s costumes that you can wear at a themed party. They include:
If you want to be on the cutting edge of fashion, then this is the perfect time to wear these types of outfits. For example, a hot 90s outfit could include red cargo pants with a blue and white or black top and platform shoes, or you can use neon-colored jeans with an even more vibrant top in your choice of colors.
If you're going for a cute look that evokes the essence of the 90s decade, then wearing your hair in a braided ponytail with a pair of knee socks is exactly what you need!
3. 90's Dresses: Shirt Dresses & Socks
For those who want to look feminine and flirty, the best way to do it is to buy or create a shirt dress and accessorize it with socks of any kind. Some 90s dress ideas include the daisy dukes look, which comes with a flirty tank top and shorts.
4. Short Jeans & Vest
For a tomboyish look, try short jeans with a vest or plaid shirt. You can knot the shirt at the waist or wear it undone for a more relaxed look. There's something about wearing a vest in the summer that goes really well with a pair of short jeans. If you have a pair, you can even wear your favorite sandals to complete the look.
A floral print dress is a perfect way to get a 90s party outfit. You can wear it to the beach or at a backyard party. This pretty floral dress is perfect for a fun night out. Paired with cute ankle boots, this outfit is sure to get you noticed. Add some sparkly jewelry, and you're good to go.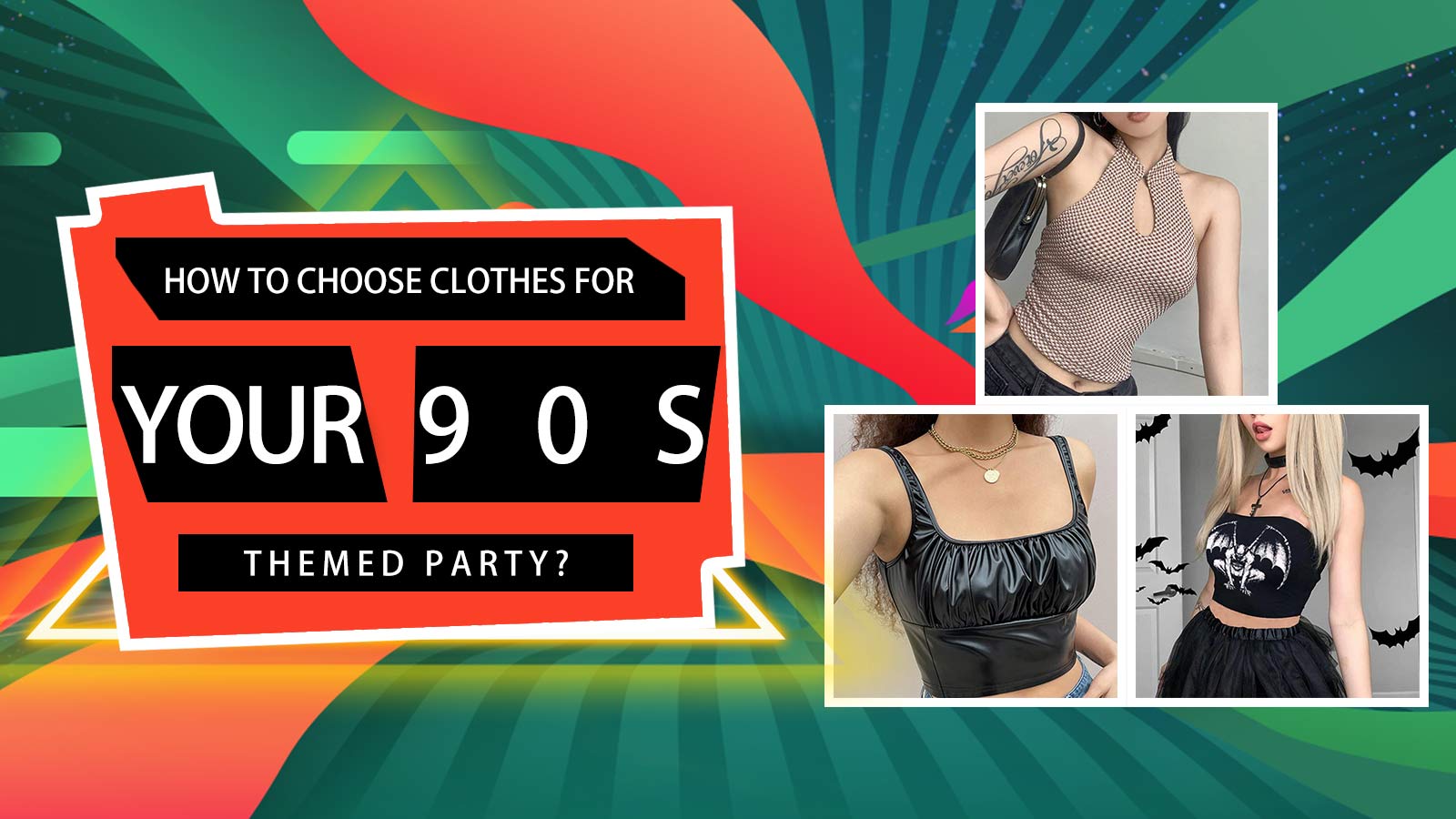 How To Choose Clothes For Your 90s Themed Party?
If you want to wear something that will make you stand out, then cool t-shirts are a good choice. They can be worn by both men and women. Some of the best choices include t-shirts with printed designs or band names. If you are looking for other ideas, try wearing a grunge band t-shirt or anything neon-colored.
Brought by the popularity of The Spice Girls, these jeans went a long way into 90s fashion. They went beyond just being worn with a pair of t-shirts and were often worn with teaming accessories such as chokers, bracelets, and ankle boots.
3. Stretch Denim
If you want to look like a flower child, pastel dresses are a perfect choice. They can be worn by both men and women, and they are very feminine in nature. If you want to wear anything else that is colorful with this style, then add some bright accessories, such as leggings or platform shoes.
4. Maxi Dress
If you want to wear a maxi dress, you need to get one that has the right style for your body. Also, you will want a color that compliments your skin tone. If it's a cool color, like white or yellow, and you have fair skin, then go with that color. If it's warm and sort of golden, then go with brown or red.
5. Off-the-Shoulder Top & Skinny Jeans
Dresses in this style are perfect for women with flat chests. If you have your chest and booty on point, then this is the perfect look to go for. You can go with a long dress, or a short one that goes down to your mid-thigh or lower, depending on the length. You can wear any item depending on what's in style. The key to this dress style is knowing how to pair it with other pieces or accessories that compliment it.
6. Bodysuit & Ripped Jeans
The bodysuit and ripped jeans look is a pretty easy one to pull off. The trick is figuring out how you want it to look. Do you want it to be skin tight, or a bit flowy? How do you want the jeans? Ripped in places or completely torn apart? Wear any colors that go well with your face and body type and complement your personality.
7. High Waisted Shorts
Shorts that hit at the waist are super in this decade. How you wear them is up to you. You can go with a high-waisted or a low-waisted style, depending on the cut and style of your dress. Wear them with a tank top, or add some sparkle and accessories to complete the look. High-waisted shorts are very 90s fashion, so you will definitely be on trend if you wear this look.
8. Flared Trousers
If you're going for a more casual look, you can wear a pair of flared trousers and a cool top. You can also add some accessories such as earrings, necklaces, and bracelets to complete the look.
9. Pencil Skirts
Pencil skirts are going to be a popular item in 90s fashion for women. They have a very feminine and streamlined appeal and can be worn both to the office and out to a party. Wear them with top, or just a plain white shirt if you want to look more professional. Add your favorite accessories, such as a necklace or a pair of cool shoes, for some fun.
10. Jumpsuits
Jumpsuits are very popular in 90s fashion. I can wear them to offices or parties and usually come with a matching jacket, so you can wear them over your other outfits. Wear it with a pair of heels or some boots, depending on the look you want to go for.
11. Leather Leggings
Leather leggings are the perfect thing to wear when you want to stand out. They have a very edgy look and are super sexy. Dress them up with some heels, a black shirt, and jewelry for an elegant look, or dress them down with your favorite 90s outfit for a more casual feel.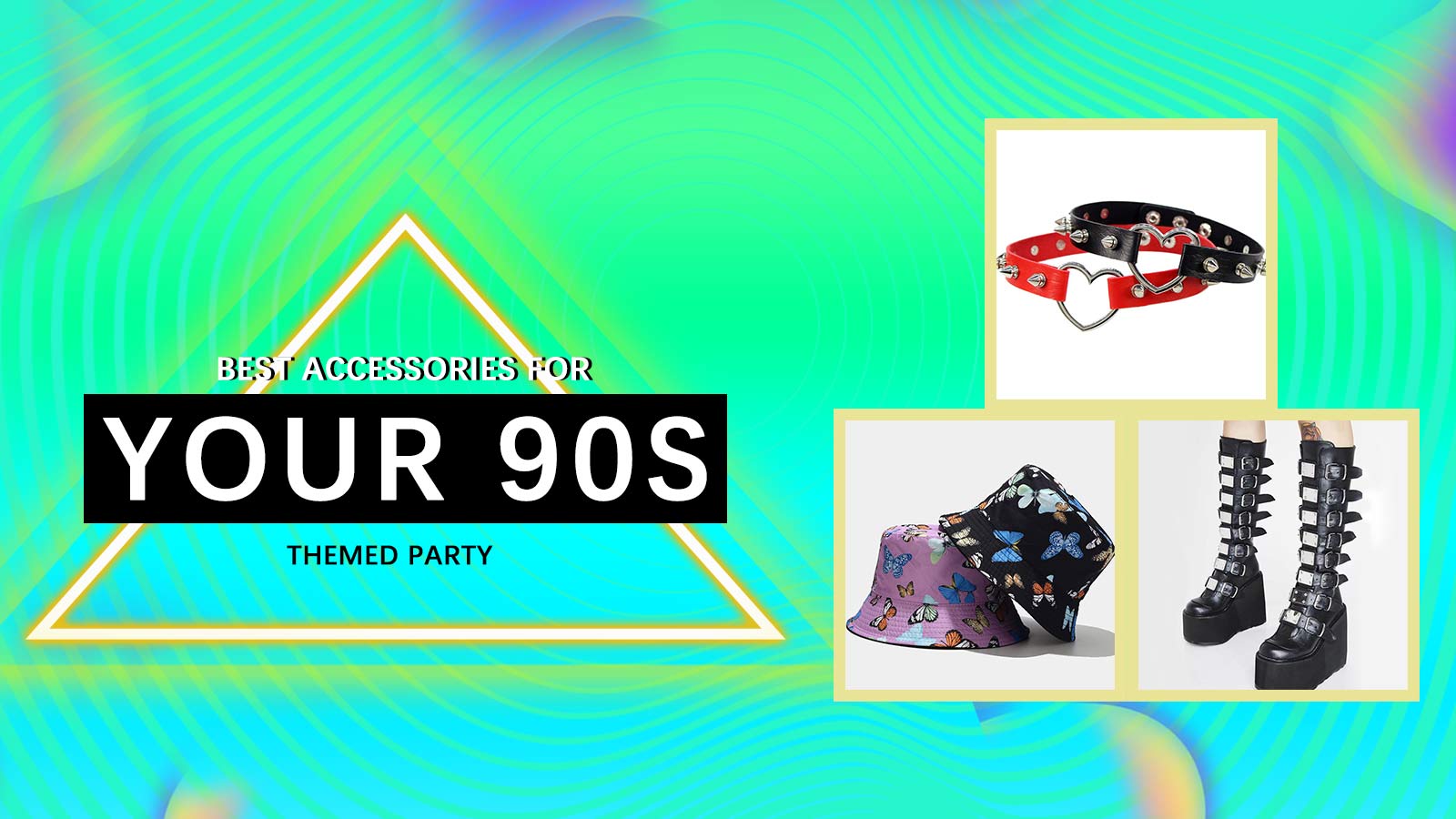 Best Accessories For Your 90s Themed Party
A bucket hat makes you look like a hipster, but is also an essential accessory for any 90s party outfit. It will add a cool vibe to your outfit and is great to wear out at night. Why not buy one in different colors and pair it with your favorite jeans? Whether you choose a classic black or white bucket hat, or something more colorful, these are a must-have for any 90s themed party. They'll keep your guests' heads cool and help them get into the throwback spirit.
2. Fanny Pack
No 90s outfit is complete without a fanny pack. A fanny pack is a bag that is worn around your waist, and it's back in style. They are big in 90s fashion, but they were also worn back in the 80s, so they fit right into the theme of this party. These convenient accessories will make sure that your guests can carry all their essentials with them without worrying about losing anything.
3. Platform Sneakers
Platform sneakers are very popular in the 90s, and they're still trending today. You can dress any outfit up or down with this one accessory, as it's a cross between a sneaker and a sock. You can go for black or white with this one, but pair them with an outfit of your choices like a miniskirt or some ripped jeans. They'll add a touch of nostalgia to any outfit and help your guests dance the night away.
A choker is a thick necklace that is worn around the neck. It can be made of various materials such as leather or silk, and is fastened by a clasp. They add a rocker vibe to your outfit and are easy to find at any costume jewelry store. They come in all materials, colors, and styles, so matching them with your other accessories is easy. Whether you choose a simple black choker or something more flashy, these necklaces are the perfect finishing touch to any 90s outfit.
Enjoy your 90s Themed Party with Your Friends!
The 90s were very special in many ways, and they are a decade that will never be forgotten. The 90 party theme was in vogue during the 90s, and it's coming back with a vengeance this season. It's definitely fun to experience a party like this because it takes you back to simpler times. You may miss some of the more exciting things about the past, but parties like these makeup for it by being just as fun without all the stress.
Conclusion
The 90s were a time when women dressed very feminine, and that's what we loved about them. We still love those amazing outfits and accessories associated with this decade. Now you can recreate the 90s fashion that you remember well with themed party outfits.