How to Style a Kimono & How to Wear?
Mar 08, 2022 by Modakawa
Introduction
With the spring and summer season on, you can start thinking about how you can level up your fashion game! This season, Kimono is quite a in style, and it has been here to stay for some time now. If you have a Kimono in your wardrobe, it is time for you to bring that out and style it in the unique way possible. If you don't have one, it is time for you to invest in one. They are stylish yet light and comfortable. All you have to know is - how to wear a Kimono in the right way. If styled in the best way, it can create one of the best outfits for you. To know more about what Kimono is and how you can create a spring outfit or summer outfit with that, read on.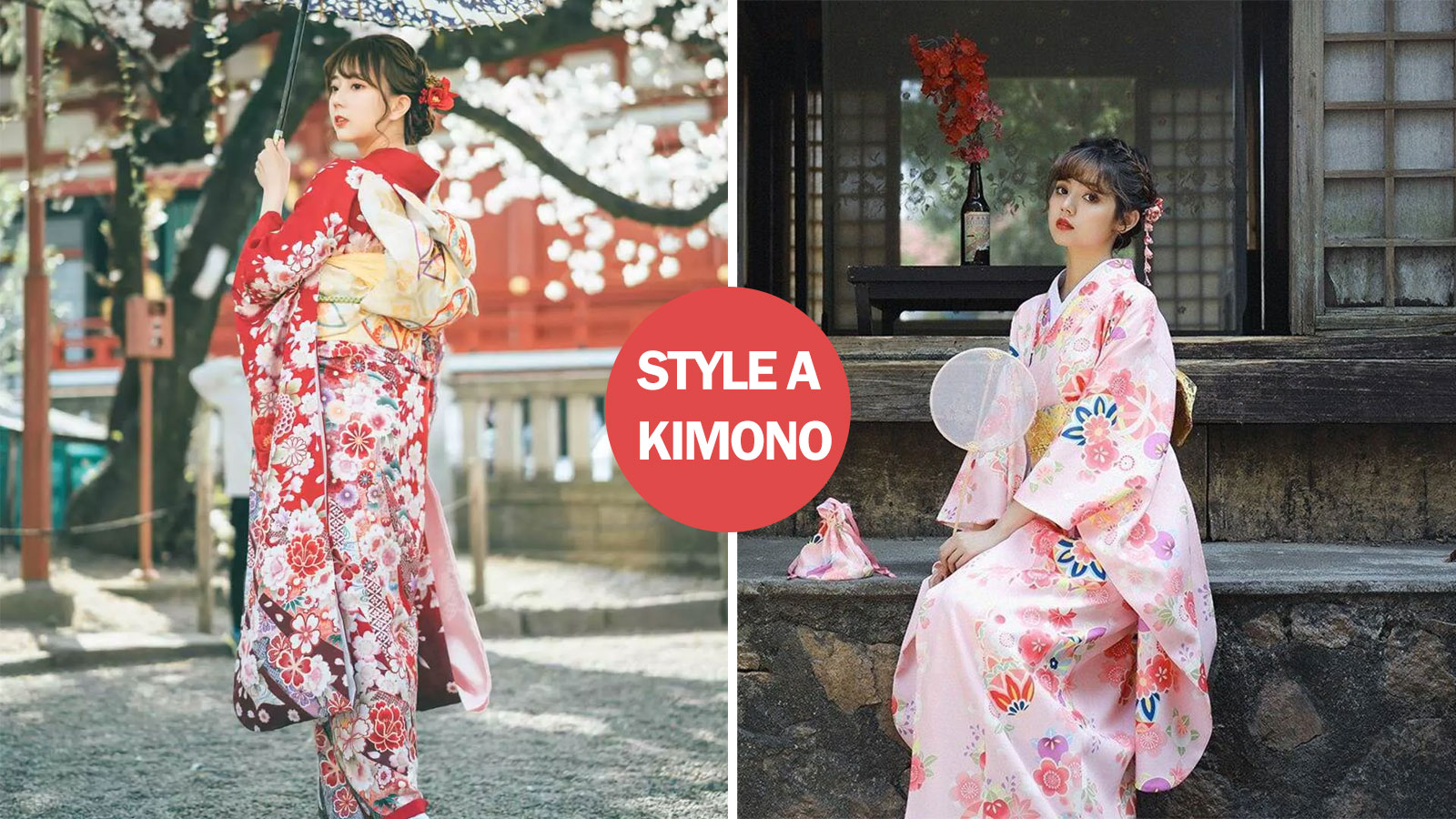 Kimono is actually a traditional garment originally used by the Japanese. It is considered as Japan's national dress. Moreover, it is a lightweight, open garment with long flowy waterfall-liked sleeves. It is a T-shaped dress that can be fastened in the front with a belt or sash. It is typically designed with varied patterns printed on silk fabric.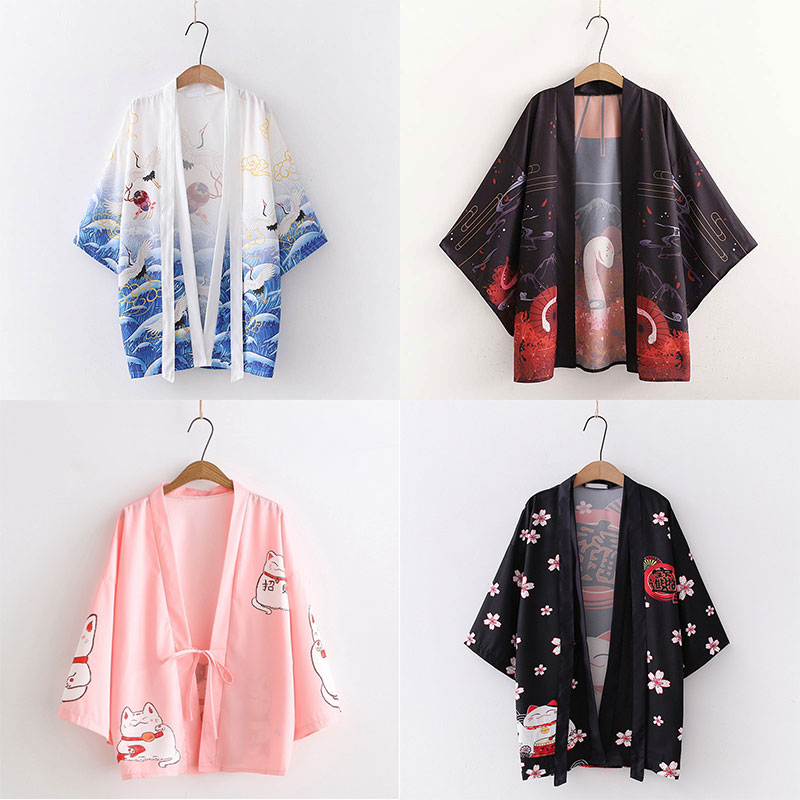 The word Kimono is a mix of two words, 'Ki' and 'Mono'. 'Ki' means to wear, and 'Mono' means thing. Traditionally, it is a thing to wear for the Japanese, and it is worn by wrapping around the left belt over the right one. If the original tradition is to be followed, the Kimonos are made up of silk. But since the time it has become more of a style statement and has taken the fashion world by storm, Kimonos are made with various types of fabrics. These fabrics can be linen, satin, or more with various cuts and designs.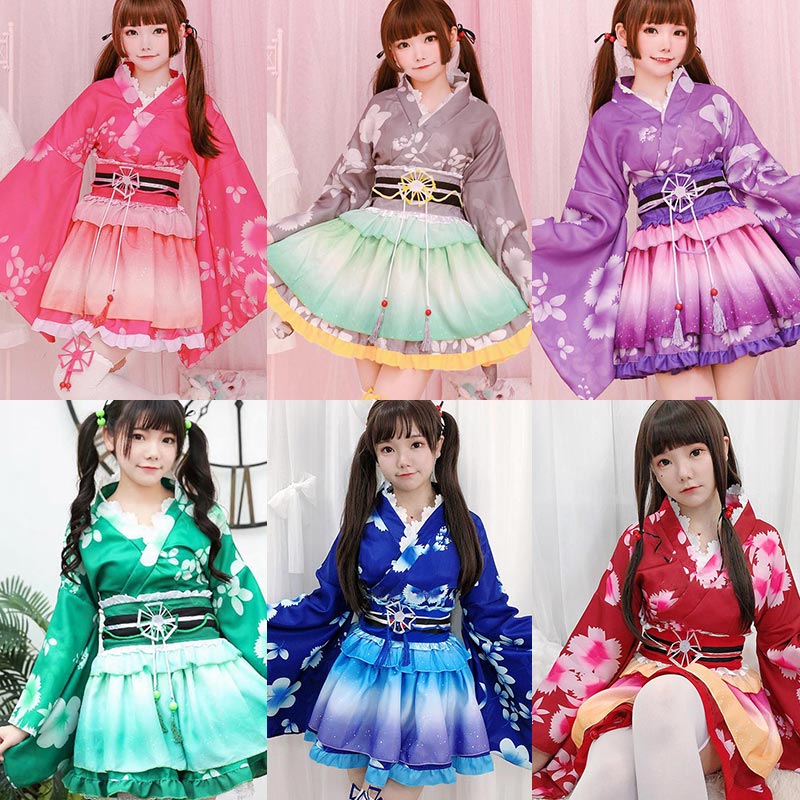 What is the History of the Japanese Kimono?
Kimonos are the traditional dress of Japan, and it has a very interesting history. The existence of Kimonos in Japan can be traced back to the 8th century. At first, the straight cuts of silk fabric used to be sown together for creating Kimono so that it could fit all types of body shapes. The first Kimono was made in the Heian period, which was between 794 and 1192. The kimono is actually influenced by Han Chinese traditional clothing. It became the traditional and everyday outfit for the Japanese. But nowadays, it is not an everyday outfit anymore. Being a national dress of Japan, it is still worn in some of the special occasions and ceremonies such as tea ceremonies, funerals, and weddings.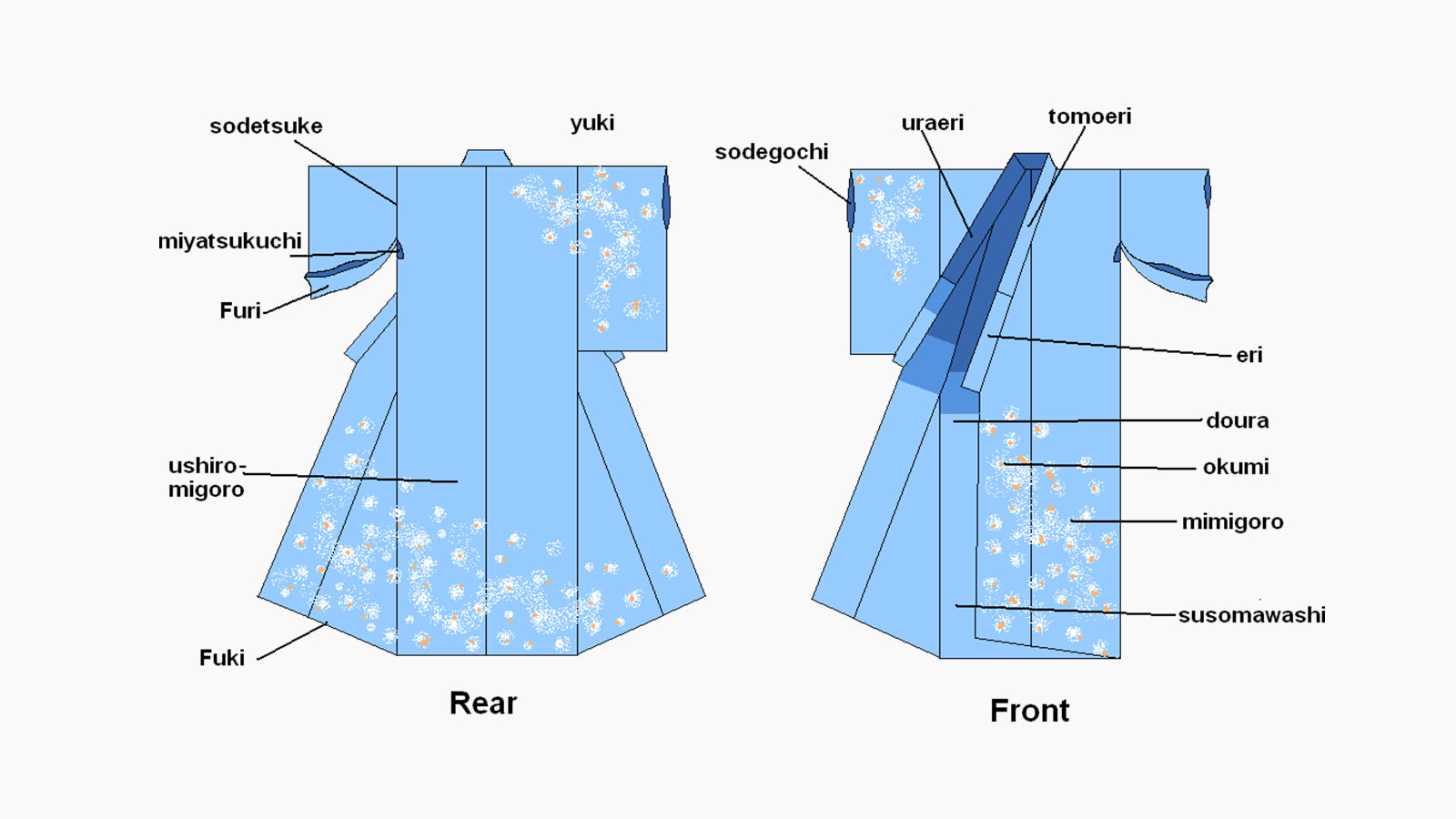 Step-by-Step Guide: How to Wear a Kimono?
Want to wear the Kimono in the Japanese traditional way? Then it surely needs some practice to wear it in the perfect way possible. If you want to know about how to wear Kimono in the traditional style, then here are some of the steps that you have to follow:
Step #1: Putting on Tabi Socks
This step is often skipped by many. But you have to put on the tabi socks first as putting them on after you wear Kimono can be tough. As you bend to wear the socks after putting your Kimono on, something can easily slip out of its place.
You have to wear the traditional undergarments that are worn by the Japanese before they put on Kimono. That is called susoyoke and hadajuban. You should not tuck your hadajuban into your susuyoke. You have to pull your hadajuban down to expose your neckline.
Step #3: Wear the Nagajuban
You have to adjust the collar of the nagajuban when you wear it. Then, you can tie the nagajuban right under your bustline. You can then pull that excess fabric of nagajuban to the seam. Make sure to keep the nagajuban at the center of your body and leave a little space (fist-width) between the back of your neck and collar.
Step #4: Put the Kimono on now
Make sure to center your Kimono on the body by completely matching the seams of your collar to the ones in the front. If you notice that any seam is a bit higher than another one, then the Kimono is not in the center. You should not pull the Kimono very tightly. But keep it properly aligned with the back of your nagajuban collar that you have put on. Though both the collars must be at the same height in the back, make sure that your nagajuban collar shows at the front by 1 cm or 2 cm. To keep the collar and Kimono right at their place, you can use pins or clips meant for the clothes.
How to Style a Kimono this Spring & Summer?
As Kimono has become more of a fashion statement, these days, many people want to style this in a different way. It is a perfect outfit that you can choose for styling your spring outfit as well as your summer outfit. Kimono can make your outfit look dressy as well as casual. You can wear it to a party as well as to the beach or any casual coffee date or outing. You can team it up with different clothes, accessories, etc. Here are the details about how you can style your Kimono in spring as well as in summer: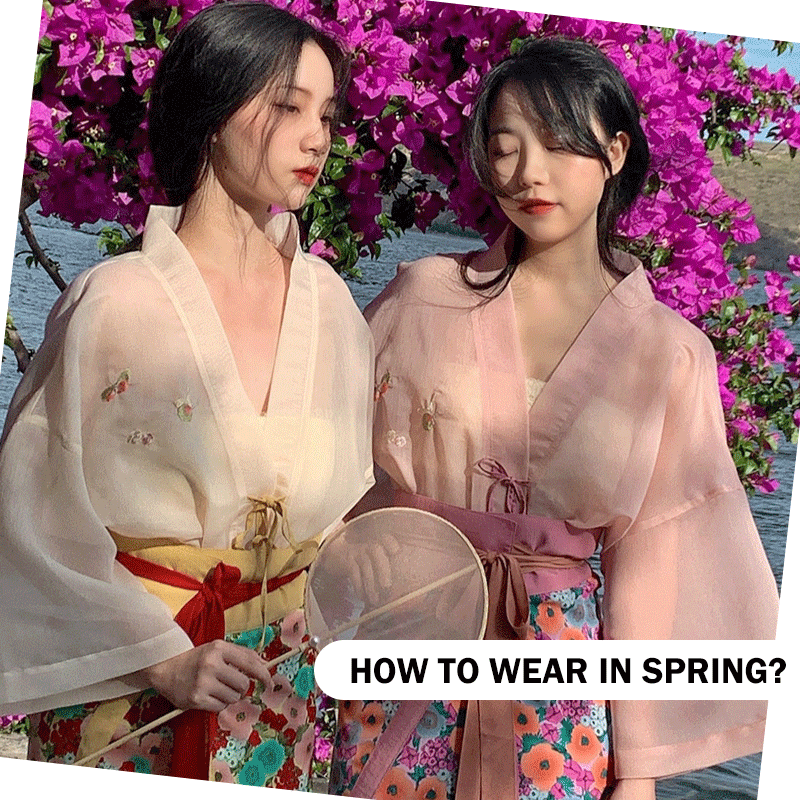 How to Wear Kimono in Spring:
Want something to wear comfy yet charming and stylish? Then you definitely need a Kimono dress. The best part is that Kimono is quite in fashion in the spring and summer of 2022. You can replace your mid-season spring jackets with Kimonos. They can look absolutely gorgeous! You can choose from the varied prints available, such as bold, floral, abstract, and more. You can also find Kimonos in different lengths so that you can choose the right one that can suit your body type.
Most of the time, people think about a pair of jeans as soon as they are asked what goes perfectly with a Kimono. But this time, you have to think differently to style something out of the box.
Though a pair of nicely-fitted jeans can look gorgeous with Kimono, it is quite common. So, what else can make you look stunning? You can pair your Kimono with a long dress, midi skirts, knitted shorts, and trousers this spring. Furthermore, you can also try out the culotte with the Kimono as both of them are quite in fashion at this moment. You can keep the Kimono open as well as closed (whatever you prefer).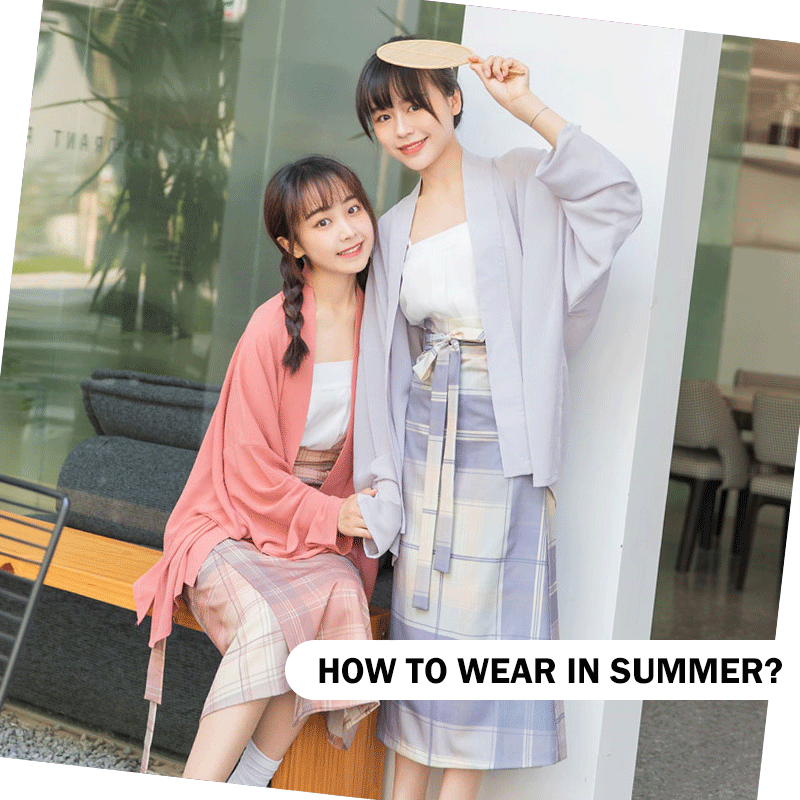 How to Wear Kimono in Summer:
The perfect outfits for the summer season must be something comfortable, breezy, flowy, and light. What can be better than a Kimono then? If you are wondering how you can style a Kimono in summer, then you have lots of options to style it.
You can choose different types of looks, such as chic, feminine, vintage, boho, and more. As it is summer, you have to wear it with lighter and breezier clothes. Keep it simple as you are layering it with your Kimono, which has to stand out.
You can choose skinny jeans, shorts, ragged jeans, vintage t-shirts, crop tops, jumpsuits, rompers, and short dresses. Kimono can act as a long summer jacket on your short dress or shorts, which can look really pretty. If you want, you can also use a shorter Kimono to team up with a pair of jeans. You have got plenty of styling options to choose from.
An ideal stylish Kimono outfit for a casual outing is a white crop top, a pair of mom jeans, and a floral Kimono. If you want to make it dressier, then you can choose a beautiful short dress and layer it with a short Kimono too.
Dos & Don'ts when styling a Kimono
Though Kimonos are in fashion, these days and people are wearing them, and you need to keep certain things in mind. To avoid any goof ups, you have to know some of the dos and don'ts of wearing a Kimono in the right way possible. Here is the list of dos as well as don'ts that you have to keep in your mind when you wear a Kimono:
Dos:
When you are styling a long Kimono with your outfit and your height is short, then you can pair it up with a high heel shoe or a wedge. This will add some extra inches to the height, which will make the long Kimono look even more perfect with your outfit.
If you want to style a casual look with the Kimono, then you must opt for the shorter Kimono (preferably the hip-length ones). You can pair it up with your favorite sneaker or trainer for the best twist. It is a perfect, everyday casual look.
When you are opting for a printed Kimono with bold and beautiful patterns, make sure to wear a solid-colored t-shirt and solid-colored jeans with it. All-black or all-white outfits can look best with printed Kimonos.
Don'ts:
Do not wear your Kimonos by closing the front, if you have an apple-shaped or oval-shaped body. Keep the front open, as that can flatter your figure in a better way by adding verticality to your overall look and posture.
Avoid wearing the Kimonos with batwing sleeves if you want to give a more slimming effect to your body or outfit. In that case, you can opt for a fitted-sleeve design for your Kimono to avoid the extra volume, which can make you look even bulkier.
Don't avoid wearing bold colors or luxurious fabrics when it comes to Kimono. You can surely style an evening outfit with a red-colored beautiful satin Kimono dress for an event. It is surely going to attract a lot of attention.
How to Care for Your Kimono?
As Kimonos are quite in fashion, these days, you must buy them! But also make sure to take proper care of your Kimonos so that they can last long. To take care of it in the best way, you have to check the care instructions that are provided on the label of your Kimono. If there is any specific instruction, follow it thoroughly.
In case there are no instructions given, then you wash the everyday-wear casual Kimonos in the machine using cold temperature water. Make sure to wash them in a gentle cycle by adding a mild liquid detergent or fabric softener for washing the Kimonos. That will keep the Kimonos soft.
Avoid using the dryer for drying the Kimonos, as it can ruin them. You can hang your Kimono and let it dry completely. Dryers can be bad for your Kimonos as the heat can cause the shrinking of the fabric and damage the material fibers, too.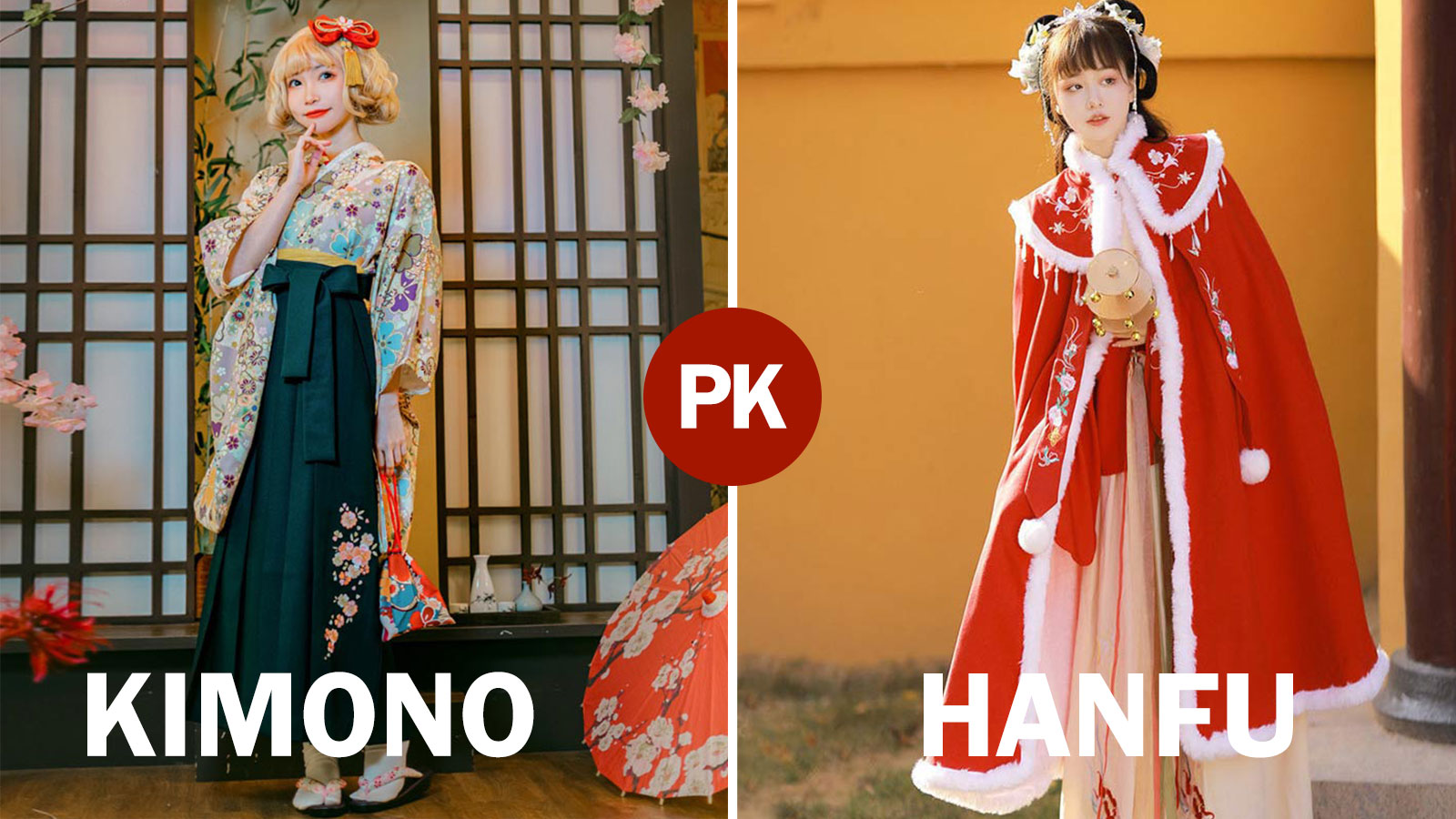 What is the Difference between Kimono and Hanfu?
Though people think Kimono and Hanfu are similar to each other, they are not. They are different in many ways. Some of the differences are:
Hanfu is mainly inspired by the Han culture, and it is popular in China, North Korea, Japan, and other Asian countries. But Kimono is the national dress of Japan, which is inspired from Hanfu.
Hanfu is free and elegant. But Kimono is quiet and restrained. The overall styles of both Hanfu and Kimono are quite different.
While Hanfu is tied by using a broad belt, the Kimono is tied or wrapped around with a cloth.
The collar of the Hanfu is cut out while Kimono has a cross collar which is cut based on the label.
Conclusion
That is all about how to wear a Kimono in the traditional way, as well as how you can style it in a sleek, modern, and elegant way now! As Kimonos are getting all the popularity, people wear them a lot on different occasions.
As the spring season is about to commence, you can totally rock your outfit with a beautiful floral Kimono paired with anything that is mentioned above. Floral prints are the best choice for spring.
As the summer approaches, you can go for light shades with subtle prints that can look feminine as well as soft and beautiful. Keep all the above important points in your mind and style your outfit according to that. You are surely going to turn a few heads this spring!