What is a Skater Dress and How to Wear Skater Dresses
Sep 23, 2020 by Modakawa
The skater dress is a timeless classic, gaining popularity and should be a staple in every well-rounded closet. It is such a versatile style that can be worn in so many ways and suits almost every occasion.
What is a Skater Dress?
If you are wondering what is a skater dress, it is a dress that has a flattering, fitted waist that flares out at the bottom, much like the dresses worn by figure skaters.
It is a great style that is airy, which accentuates the legs no matter how tall or short you may be.
(click to learn more about this dress)
Skater dresses come in three main styles, such as knife, box, and micro pleats. They also come in A-line styles that are flared and in a circle cut that flows nicely when worn.
You can find a short sleeve skater dress or sleeveless, and you will also find a long sleeve skater dress.
They also come in different lengths. There is the mid-length that will reach knee-length or mid-length. There is a short skater dress style as well but should be worn cautiously.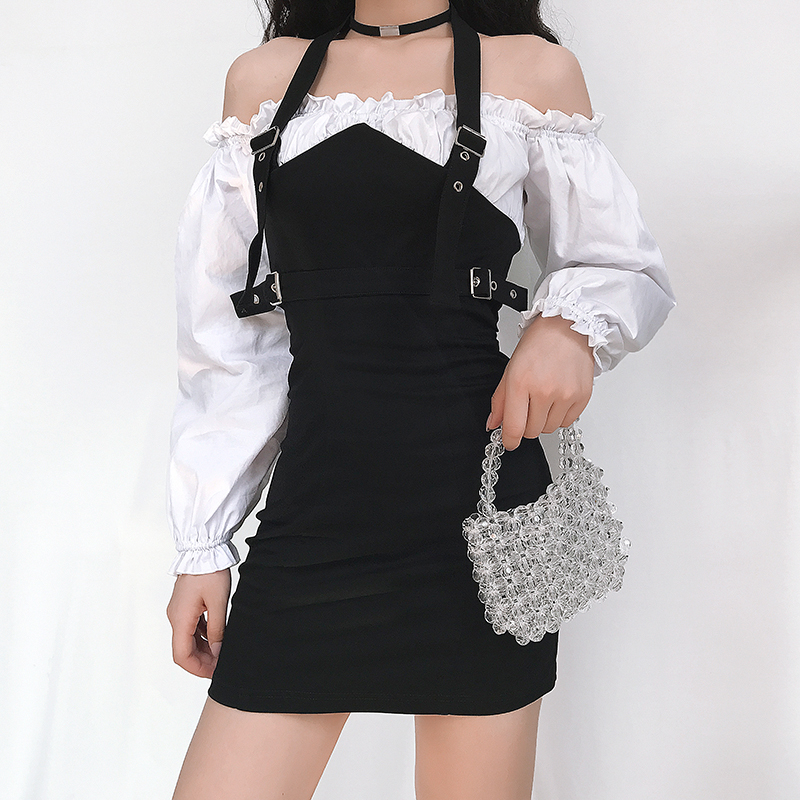 (click the picture if you like this style)
You want to avoid wearing a skater dress that is much too short. An excellent way to gauge whether your dress is too short or not is to the index finger test.
To do this, simply stand up straight and hold your index finger at your side.
Your dress should fall just below your knees.
Who Should Wear a Skater Dress
You may be wondering: which body type is it for skater dresses?
Since the skater dress is so versatile as well as fitted, it is an ideal style for any body shape or size. If you wear plus-sized clothing or are short in stature, you will want a knee-length style or slightly above the knee.
The key is to find a skater dress that is tailored to your specific body shape. If it is too tight or too loose at the waist, it will not be very flattering, just as any ill-fitting garment would be.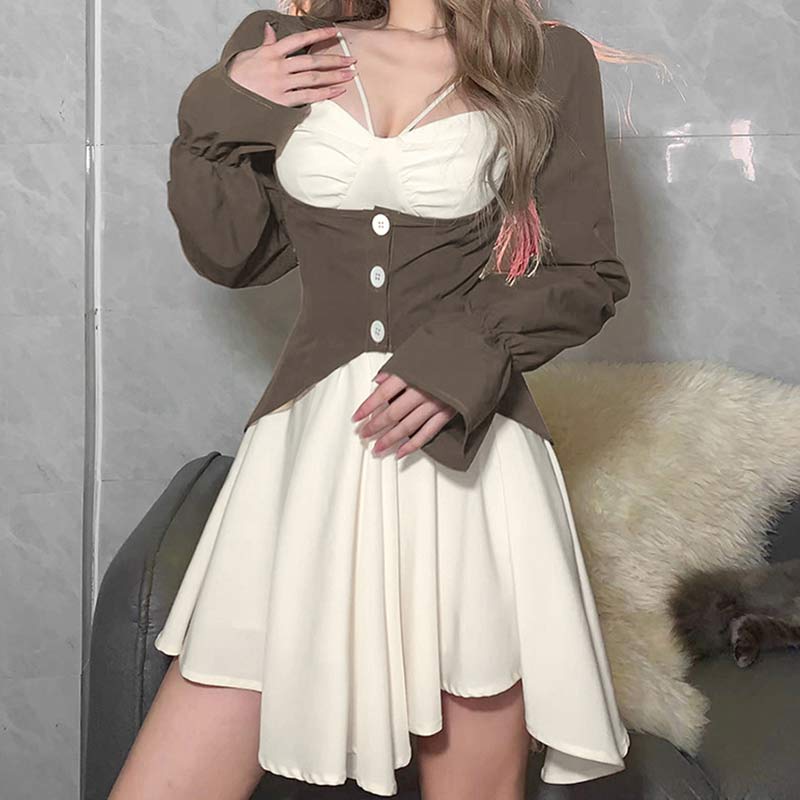 Skater dresses tend to naturally highlight the hips, but if you are very slender, a belt worn low, or a long shirt can help to accentuate the hips even more and will give you more of a curvy appeal. Go for lots of flare in your skirt as well.
A skater dress is a great way to give your legs a longer appearance, so if you are short, it is a great way to make yourself appear taller and sexy.
If you are more voluptuous, it is also very flattering as it accentuates the curves of the body very well because of the way the fabric drapes below the waist.
What Are the Different Types of Skater Dresses?
The skater dress comes in a wide variety of styles, colors, and patterns. Still, there are a few that are considered to be staples or must-haves for your closet simply because they pair well with many different accessories and pieces that you probably already have in your wardrobe.
The red skater dress is a great pick for a night on the town or when you would like to get noticed. Wear it when you feel daring and want to feel extra sexy.
The black skater dress is a classic and can be easily paired with pretty much anything. It is ideal for the office party or date night and is easy to pull off, no matter how much or how little time you have to get ready.
The white skater dress is another classic option, but its lighter color is a great choice for brunch and is a great outfit for the warm summer and spring months.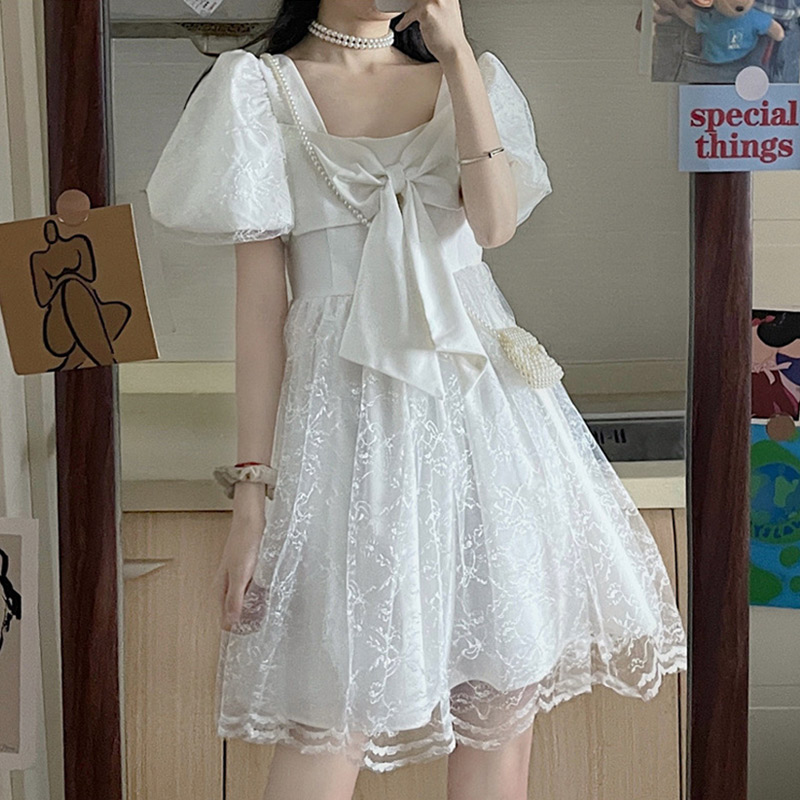 A lace skater dress is more delicate and is ideal for a dressier occasion such as a black-tie event, wedding, or dinner party.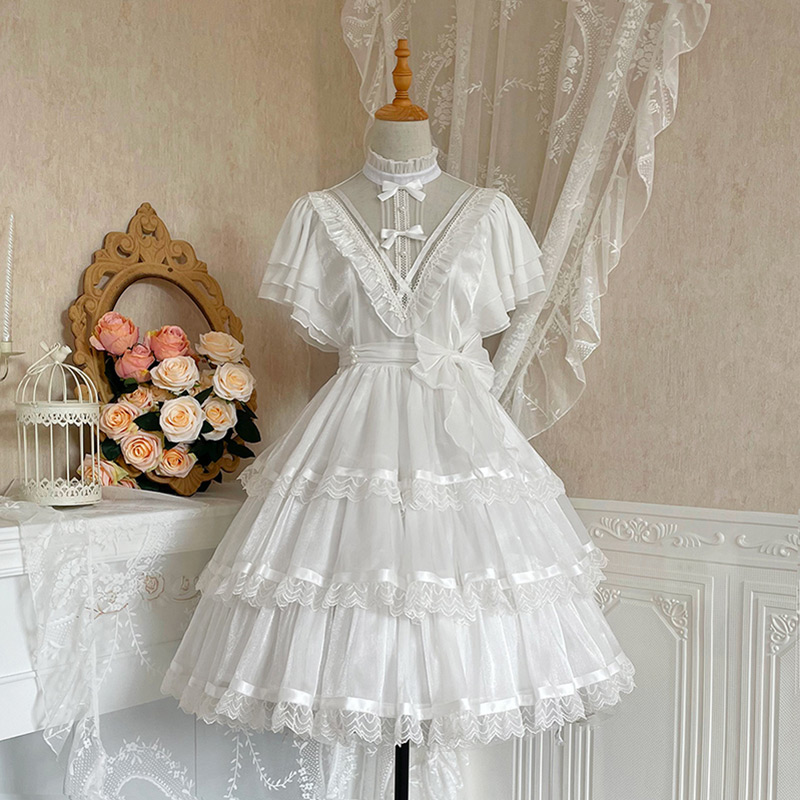 How to Wear Your Skater Dress Like a Pro
There are many ways to wear your skater dress.
What Leg-Coverage to Match With a Skater dress
You can even wear a skater dress in the winter. The trick is to stay warm and toasty yet without looking bulky or frumpy. In the fall and winter months you will want to pair it with long boots, knee-high socks, or thick tights.
That way, you will look stylish as you keep your legs covered and warm. Use colors that contrast yet complement, such as black and white. You can also sport cute cardigans and sweaters as long as they are more fitted and not too loose or baggy.
Don't forget to accessorize. You will want to add jewelry and a cute pair of pumps and for an even more pulled-together look, be sure to match them.
In other words, if you have silver earrings, wear shiny, silver heels.
What Shoes to Match with a Skater dress
In the springtime or summer, you can pair your skater dress with a knee-high pair of gladiator heels or ballerina flats. For a more casual look, you could even throw on a pair of converse runners or sneakers.
If your skirt is patterned, you will want to wear a plain or solid-colored pair of shoes with it. Or if you have colorful or patterned sneakers, you will want to wear a solid-colored or more neutral skirt with them.
Long legs? Wear high tops for a reduced leg-line, and if you have thicker legs, you can wear low tops for the opposite effect.
Typically, closed-toe shoes look best when paired with a skater dress.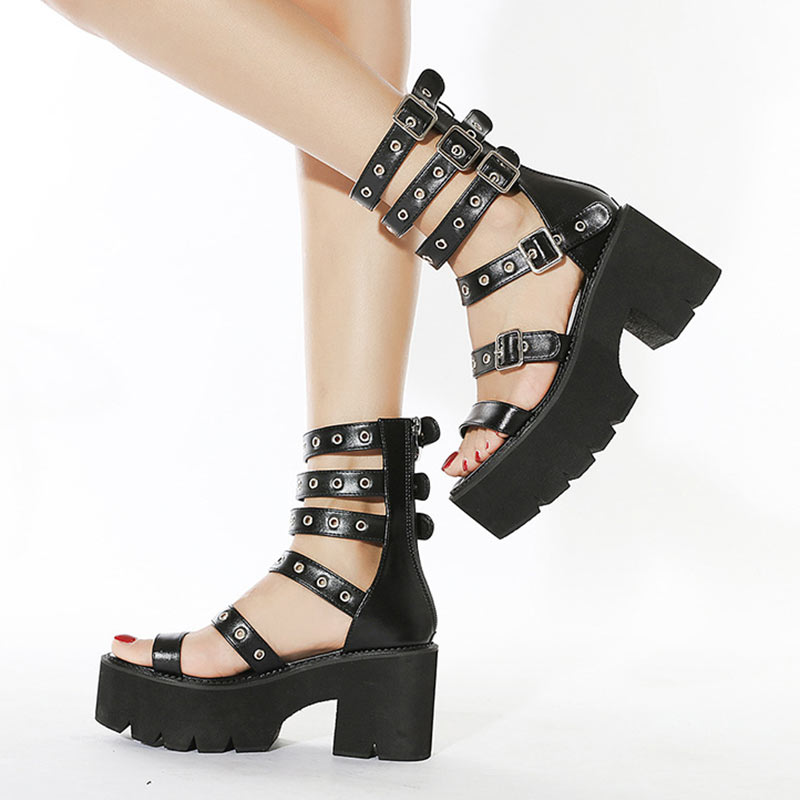 Pretty much any type of boot looks great such as combat boots, lace-up boots, and ankle boots, but they can tend to add a bit of thickness to the legs, so they are a better choice for those with height or slender legs.
For those who are petite or on the shorter side, platform boots are a great way to add in some extra height.
What Top to Match With a Skater dress
Not all tops are created equal, and that also means that not just any old top will do when it comes to pairing up with your skater dress.
Crop tops, V-necks, scoop necks, and fitted tees all look great when paired with a skater dress.
(click the picture for this matching)
Try to avoid wearing loose or off-the-shoulder tops with your skater dress because it won't be quite as flattering. Of course, you will need to experiment a little with what you have in your wardrobe.
You may want to try untucked or tucked and have fun with it. Once you nail down a favorite look, you can use it again and again as your go-to outfit.
Another thing to avoid is having too much going on. So if you have a patterned skater dress, avoid going for a patterned sweater. You will want to have one a solid color and one patterned to help avoid looking too busy.
The same goes for makeup.
If you are wearing a bold, bright, or patterned outfit, your makeup should be more neutral. The opposite is true, as well. You want to decide what you want to highlight and stick to it. Go with a bold lipstick, hairstyle, or dress, but don't go bold with everything, or it will be too much.
Play around with different cute looks and have fun but keep in mind the tips and "rules" when it comes to sporting a skater dress, and you can't go wrong.
(Featured Image Credit: Aude Sarkamari)