How to be Kawaii: 9 Steps and Tips - The Complete Guide to Kawaii
Apr 22, 2020 by Modakawa
Being a Kawaii girl is easy, as long as you know exactly what it takes to pull it off flawlessly.
The word Kawaii is best described as being cute, and wearing cute items and accessories, which has been made incredibly popular thanks to Japanese culture.
Do you want to know how to be kawaii?
The following article will show you how!
What is Kawaii?
What is Kawaii?
Kawaii means "lovable" "adorable" or "cute," and refers to a wide variety of concepts. It can refer to humans, animals and inanimate objects that have a childlike aesthetic.
Some examples of Kawaii include the cartoon character Hello Kitty, as well as Pikachu and other Pokemon monsters.
Kawaii is more than just the Japanese term for "adorable" or "cute." It's a way of life for so many people everywhere.
The kawaii look has many influences. It's influenced by Japanese manga or anime. It's influenced by the general styles that are seen on the streets of Harajuku in Tokyo, Japan as well.
If you've ever spent an afternoon chowing down on crepes with strawberries and whipped cream on Takeshita Street in the Tokyo neighborhood, then you most likely have gotten a close glimpse at the kawaii scene in all of its glory.
How to look Kawaii
1. Styles
If you want to know how to look Kawaii, all you have to do is take a look at what's most popular among young women in Japanese culture.
Currently, the two top Kawaii styles are decora and lolita.
Lolita fashion is rather self-explanatory, and is the most recognizable Japanese Kawaii fashion style.
This style of clothing often exaggerates childlike dresses with lots of frills and pastel colors. Bo Peep collars, ruffled petticoats and clunky Mary Jane shoes are popular in this style.
There is also the style of "Sweet Lolita," in Kawaii culture, which is just like the standard lolita style, but with far more ribbons, bows and frills. Flamboyantly curled hair, and very light makeup is often worn in addition to this style.
Decora is a Kawaii style that employs the use of jewelry and other accessories to the point of being considered excessive under any other circumstances.
Decora Kawaii girls like to pile on lots of colorful bracelets, hair bows and other "decorations," in an attempt to look as colorful and vibrant as possible.
These Kawaii cuties really know how to stand out in a crowd! Are you more interested in the Lolita look or the Decora look?
Making this decision is the first step in learning how to be Kawaii.
Do you want to master how to be kawaii?
If you do, then you need to select all of the right tops.
Kawaii girls are often big on hoodies that have urban appeal in droves. They're often big on classic T-shirts that are nostalgic and reminiscent of childhood as well. Opt for sweatshirts that are vivid and striking.
(Click on the image to discover more cute tops from Modakawa)
Go for T-shirts that have girlish tones, too.
Light pink, baby blue and pale yellow all tend to work like a charm.
Being kawaii is all about being girly.
Kawaii girls tend to wear lots of dresses and skirts day in and day out. You can explore all of your options in dresses that epitomize the "Lolita" vibe.
You can explore Lolita-influenced skirts all the same. Suspender skirts are all the rage in the kawaii universe. These kinds of skirts can contribute to sultry yet undeniably youthful and cute feels. They can even showcase gorgeous gams to the rest of the planet.

It can be a piece of cake to find dresses that are suitable for kawaii style approaches. Be on the lookout for the girliest dresses around. Look for dresses in colors such as pink, red and purple.
Look for dresses that are full of elements such as bows, frills, ruffles and lace. Picture the dress your favorite childhood doll wore. If you can emulate it well, then you can get on the fast track to being kawaii.

Some of the cutest dresses also feature undeniable floral designs. It can be a cinch to look kawaii in a dress that has flowers everywhere. Look for dresses that put roses, sunflowers, lilies and daisies on display.
There are all sorts of accessories out there that can make you feel and appear like a bona fide "kawaii girl." It's vital to invest in accessories that can make your hair look like a million dollars.
Kawaii gals tend to put a lot of time and energy into enormous bows. You should look for massive bows in all sorts of traditionally kawaii colors like pink. Distinctive headbands can make you look kawaii.
If you want your locks to genuinely pop, you should search for any and all accessories that include elements like glitter, stars and hearts. It may even be a fantastic idea to put adorable bunny ears in your hair.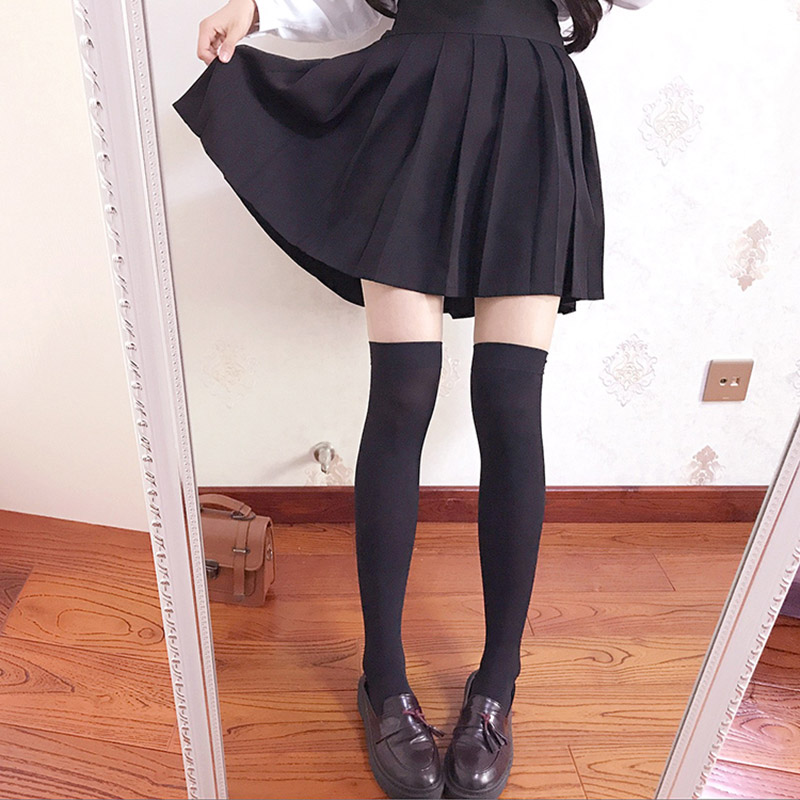 Fluffy bunnies and the kawaii scene tend to go hand in hand. If you're keen on looking kawaii, then you should search for all of the cutest hair clips on the market.

There are other essential kawaii accessories that don't involve the hair at all. If you're keen on being kawaii, then you should put a lot of energy into your fingernails.
There are so many kawaii manicure options on hand these days. You can get a manicure that features the cutest animals possible. Bunny or kitty theme manicures can go a long way. It can also be wise to make your nails appear as glittery and shiny as possible. Subtle nails are in no way par for the course in the kawaii realm.
Footwear is and has always been a major consideration for people who want to epitomize the kawaii scene. If you're serious about looking kawaii, you may want to explore all of your choices in platform shoes.
(Click on the image to find more shoes)
Thick platforms can give your height a significant boost. They can also contribute to an undeniable kawaii vibe that's impossible for anyone to ignore. If you're not able to walk easily in platform shoes, you don't have to panic.
That's because some of the most kawaii gals around are just as passionate about Mary Janes. Classic Mary Janes can be reminiscent of schoolgirl vibes that are so common in the kawaii realm.

Don't forget for a second about footwear colors, either. Remember, the more vivid your shoe colors are, the better. Shoes that remind you of the rainbow may look amazing alongside kawaii outfits of all kinds.
Shoes that feature baby pink, pale blue, lavender and beyond can look just as incredible. Just make sure that you can walk properly in your footwear choices. If you constantly trip and fall, then your kawaii look just won't cut it in the end.
If you want to be kawaii, you're going to also want to pick the right bag to carry with you.
Not all cute girls carry purses, but adorable little backpacks in the shapes of characters like Hello Kitty and Pikachu are always favored.
Purses shaped like colorful desserts like cupcakes, ice cream cones and cookies are also good choices. Remember, the cuter the item the more Kawaii you'll look.
You can also choose adorable Kawaii hair accessories, such as colorful hair clips or bows. Headbands with adorable animal and food prints also accentuate the overall look.
You should also do your hair in a style that is familiar to Kawaii Japanese culture. Lots of ringlets are one timeless look in this style of fashion.
Pastel-colored hair that resembles Anime and manga characters is also incredibly popular. A wide variety of Kawaii wigs exist, which makes it easier to change your hairstyles to go with every cute outfit you wish to wear.
(Click here to find more kawaii wigs)
Remember, too, that looking kawaii is all about exuding a youthful vibe. You can attain a youthful vibe by putting bows in your locks.
Wearing your hair in braids or pigtails can do the trick, too. Think back to your elementary school days and all of your favorite hairdos at that time.
8. Makeup
If you're trying to look kawaii, and you've already chosen your clothing and accessories, you're going to want to do your makeup properly as well.
One of the most important aspects of being Kawaii is to look as cute and innocent as possible, as if no effort is made to look so flawless. Large, exaggerated eyes, glass skin and natural tones are preferred for this look.
Although you want to keep your base cosmetics minimal, it can help to concentrate on your eyes. The kawaii look is all about intense eyes. It can help to get eyelash extensions that are sophisticated and striking. You can curl your eyelashes.
You can use high-quality mascara, too. You may want to look into mascara brands that are widely known in Japan.
Kawaii eyes tend to be circular. Dark mascara can help make your eyes appear markedly wider and "girlier." Apply a lot of dark mascara on your upper and lower eyelashes. Be generous in your use of mascara. Don't make the mistake of scrimping.

Light lipstick is the way to go for people who dream about being kawaii. Refrain from putting on dark and dramatic red lipsticks. It can help to concentrate on lipglosses that are transparent. If you prefer lips with color, light pink is the right option to consider, period.
9. LifeStyle
Now that you've figured out your clothing, accessories and makeup, you're on your way to being truly Kawaii.
However, being a Kawaii girl is more than just a look or sense of fashion. Part of this culture also involves changing your mannerisms and the way you use your voice so as to push the idea that you are youthful, energetic and cute.
Kawaii gals tend to be happy-go-lucky. They don't let the little things make them sweat. They grin a lot. They even do a lot of laughing.
If you're serious about being and feeling kawaii, then you need to adopt a carefree attitude. Kawaii gals don't waste time worrying about the little things. They take to take full advantage of their circumstances.
Practice being more "girly" in the mirror when you're in full costume, so you can get into your own Kawaii character. With time, it will all come with ease and you will truly be Kawaii!
To Wrap Up
Any and all human beings can be kawaii, zero exceptions. You can be kawaii regardless of how "old" or how "young" you may be.
There are no age limitations in the kawaii world. You can be kawaii regardless of your gender identity. You can be kawaii regardless of race or ethnicity as well.
Kawaii is a concept that embraces all human beings equally. That's part of the reason it's such a welcoming and irresistible path for so many individuals everywhere.
There are no real rules in the kawaii scene. Kawaii options abound. Being kawaii is all about being liberated.
Being a kawaii girl is something that you can control.