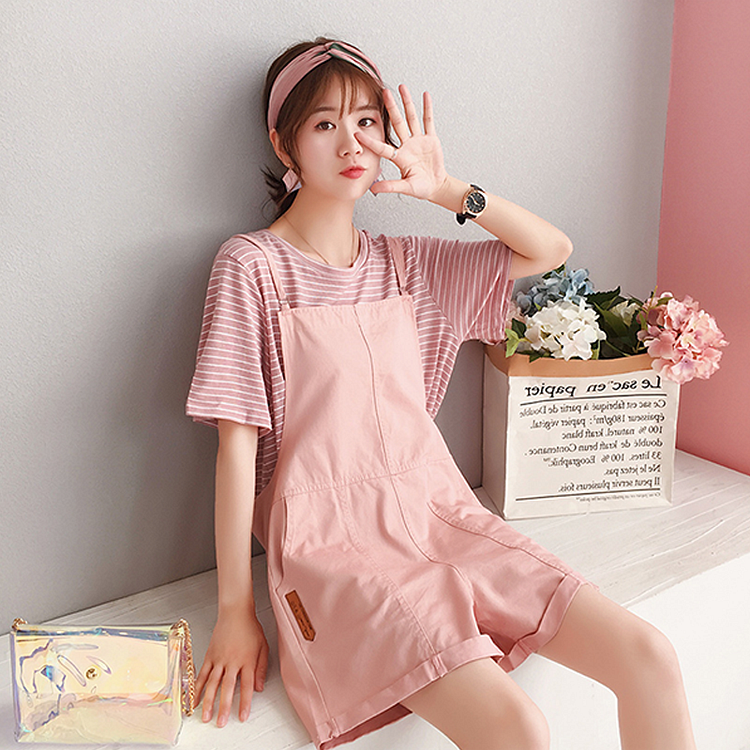 DESCRIPTION
💟 Cute Two Piece Set, unique design, casual, easy chic.
💟 Fashion and elegant design makeS you look sophisticated, shows your womenly curves and femininity.
💟 Perfect for daily life, indoor, outdoor, work, date and party. Suitable for any occasion in late spring, summer and early fall.
Product ID: MK1420
Material: Cotton, Denim
Pants Length: Above Knees
Pattern Type: Stripe
Season: Summer
Color: Black, Yellow, Pink
Size Info.
T-shirt:
S: Length 55 cm, Shoulder 40 cm, Bust 98 cm
M: Length 56 cm, Shoulder 41 cm, Bust 102 cm
L: Length 57 cm, Shoulder 42 cm, Bust 106 cm
XL: Length 58 cm, Shoulder 43 cm, Bust 110 cm
XXL: Length 59 cm, Shoulder 44 cm, Bust 114 cm
Overalls:
S: Waist 92 cm, Length (Plus Strap) 60 cm.
M: Waist 96 cm, Length (Plus Strap) 61 cm.
L: Waist 100 cm, Length (Plus Strap) 62 cm .
XL: Waist 104 cm, Length (Plus Strap) 63 cm.
XXL: Waist 108 cm, Length (Plus Strap) 64 cm.
All measurements are approximate and can vary slightly. Please check size info before order.
1. Does Modakawa ship to my country?
We ship to almost every country in the world except the following ones, due to shipping restrictions. We're sorry and will keep working on this.
Africa
Algeria
Brazil
India
Indonesia
Kuwait
Morocco
Mexico
Peru
Philippines
Qata

r

Ukraine
2. How much does shipping cost?
You can enjoy free shipping on orders over US$89. Otherwise, it costs US$10.
If you need express shipping, you could choose it at checkout, which costs US$25 (not available at the moment).
PS. We have free shipping site-wide promotions during sale season. Stay tuned!
3. Will I have to pay taxes?
Each country has its own customs rules and policies. Please contact local customs for more information. If, in rare cases, import duties or taxes are charged, the customer is responsible for paying them.
4. How long will it take for my order to arrive?
Total delivery time = processing time + shipping time
(not including customs delays, weekends, holidays and any unforeseen circumstances)
Processing Time: 3-7 business days
Standard Shipping Time: 10-25 business days
PS. For orders to South America and the Russian Federation, shipping may take more than 1 month due to transport and customs issues.
.
5. How can I track my order?
Once your order is shipped, we will send you an email with the corresponding information. After that you will be able to track your order at https://www.17track.net/en. Please allow 1-2 business days for tracking information to be available.
6. What if the package doesn't arrive?
If you don't get your package 60 days after it was shipped, please contact us at [email protected]. We'll either resent a new one to you or give you a full refund.
7. Can I cancel or change my order?
If you would like to cancel or make changes to your order, please contact us within 24 hours after you made the order. No cancellation or changes could be applied to the order once it goes into preparation for delivery.

Australia Shipping:
You can enjoy free shipping on orders over AUD$120. Otherwise, it costs AUD$15.

Canada Shipping:
You can enjoy free shipping on orders over CAD$120. Otherwise, it costs CAD$15.
When we say we're always here to help, we mean it.
If you have any question or comment, please let us know in one of the following ways.
We'll get back to you within 24 hours.
Please contact us in following ways:
For wholesale inquiry, please contact us by: